I'm so excited that I've been given another opportunity to do a review and host a giveaway! This time, for a great Etsy shop- "TheTessyTree"!
Our sponsor, Tess, runs TheTessyTree in her 'spare time'. I say 'spare time' because Tess is a single mother of two little girls and two dachshunds- Bob & Apples. She also works full time and runs a 2nd Esty shop, as well- T shreds, where she sells clothing and accessories! She has Facebook pages (where she runs awesome specials) for both shops that she keeps up to date all the time- TheTessyTree Fan Page & T shreds Fan Page! I don't know how she finds time in the day...
The Tessy Tree is such a cool shop! Tess opened her shop on January 13, 2011, and in just over a year has had 269 Etsy sales! This doesn't even count any other form of sales she makes! She obviously puts nothing but her very best into her work, which is quite important to her! She has 100% positive feedback for 330 transactions on Etsy- a trustworthy seller! Tess mainly sells jewelry at this shop, including bracelets, necklaces, earrings, and rings, but also sells a few accessories and home decor items. She has many different styles of jewelry for sale (look at the MANY photos on her TheTessyTree FB Page!), but among her most popular items are her "Tree of Life" necklaces.
These gorgeous necklaces are made of twisted wire and beads, and some include other small charms, too. Every one of these necklaces is unique and with so many colors and variations to choose from, the possibilities are endless! They are also very customizable.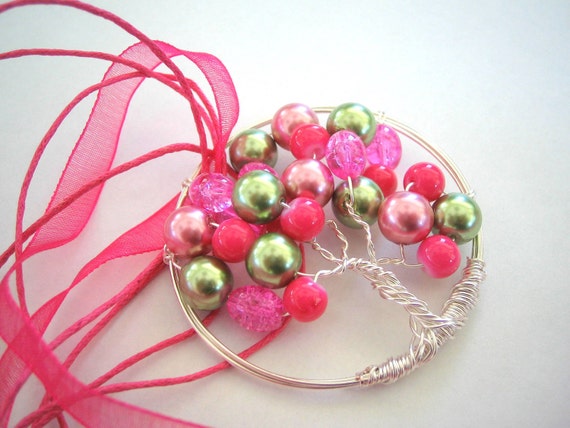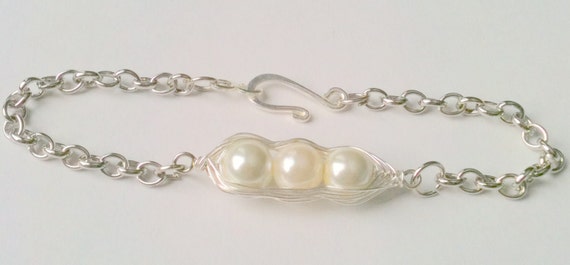 Another of Tess' most popular designs is her 'Pea in a Pod' jewelry. These are simply beautiful! She sells 'Pea in a Pod' necklaces, bracelets, and earrings, so you can have a matching set! They are also completely customizable. You can choose the number of peas you want as well as colors. She even has some beautiful rhinestones she can add to 'jazz up' your pea pod! As you may have guessed, these are super popular as Mother's/Grandmother's jewelry! How lucky am I that I get to review one of the 'Pea in a Pod' necklaces?!?!
I wanted my pea pod necklace to be a Mother's necklace, representing my kids. Though I could have gotten my 'pearls' in their birthstone colors, I really like the look of the green peas in my pea pod (Plus, I don't know if my new baby will be born in March for sure!). I chose to have 3 peas. One for the first baby we lost, one for Brennan, and one for the new baby coming in March. After choosing my pea pod design, all I had to do was wait. I was SO anxious to receive it!
When our mail lady dropped it off at our house, I tore into the package like a 7 year old on Christmas morning! Even the packaging was delightfully cute- definitely cute enough to give to someone as a gift, just as it came.
I pulled the necklace out of its beautiful packaging and was so happy to see how great it looks! It is just so pretty and I love it! The peas are intricately wrapped in non-tarnishing shiny silver wire and topped off with 2 cheery little stem tendrils. It comes on an 18 inch silver ball chain. On a side note, Tess was even thoughtful enough to send along a really pretty metal stamped key chain, as well, just 'because'! :)
It is obvious that Tess takes lots of pride in her work- it shows. I think anyone would be very satisfied with their purchase from The Tessy Tree, based on my experience. The only possible criticism about my necklace I can come up with is that the ends of the stem tendrils are slightly sharp on the ends. If the pea pod sits on your shirt or high enough on the flat part of your chest, this definitely wouldn't be an issue at all. It only poked me when it slid down too far between my boobs, which is always an issue I have with necklaces and my rather much-too-large chest. Here's how it looks on me... I think it is beautiful and has such a special meaning for me. (Just a note- I switched out the chain in the following picture to achieve a little shorter length.)
One more little peek at my 3 little baby peas. This is what the back side of the necklace looks like.-
Now comes the really exciting part! You've got the chance to win your very own pea pod necklace from TheTessyTree! These each retail for $25. You'll be able to customize it exactly as you like with your special number of peas, pea colors, and wire color! If you'd rather not wait for the giveaway to end and want to buy your own pea pod now, just visit TheTessyTree and place your order with this special coupon code for 25% off! Here's the code: blogger25. ATTENTION MEN- These would make great gifts for your wives and girlfriends on Valentine's Day! And don't forget about this great option for Mother's Day, in a few months!
Here's how to win:
It is so easy! All you have to do to enter is leave me a comment telling me how you would personalize this necklace! Please include your email in this comment so I can contact the winner! This entry must be completed before you complete any extra entries.


Extra Entries (Make sure you leave me a comment telling me which of these you did!):
'Like'

TheTessyTree Fan Page & T shreds Fan Page

on Facebook- 1 extra entry for each page (Please use a separate comment for each!).

Comment with which item at

Tess' Shop

is your favorite!- 1 extra entry

Follow my blog with Google Friend Connect- 1 extra entry

Vote for my blog on Picket Fence (Icon on right)- 1 extra entry (can be done daily)

Share this giveaway on Facebook!- 1 extra entry (can be done daily)
Please use individual comments for each entry to make choosing the winner randomly with Random.org simpler. This giveaway is open to USA residents. Giveaway ends on February 5th, 2012 at Noon CST. I will email the winner and they will have 48 hours to respond or a new winner will be chosen, so please remember to leave me your email.

Good luck! Please spread the word!!!


*I was given this product for review purposes. All of my opinions about this product are solely my own. Your opinions may differ. I was not compensated to write this post in any way.*